Team: Jan Sikora, Paulina Borysik, Julia Podsiadło, Anna Kuczewska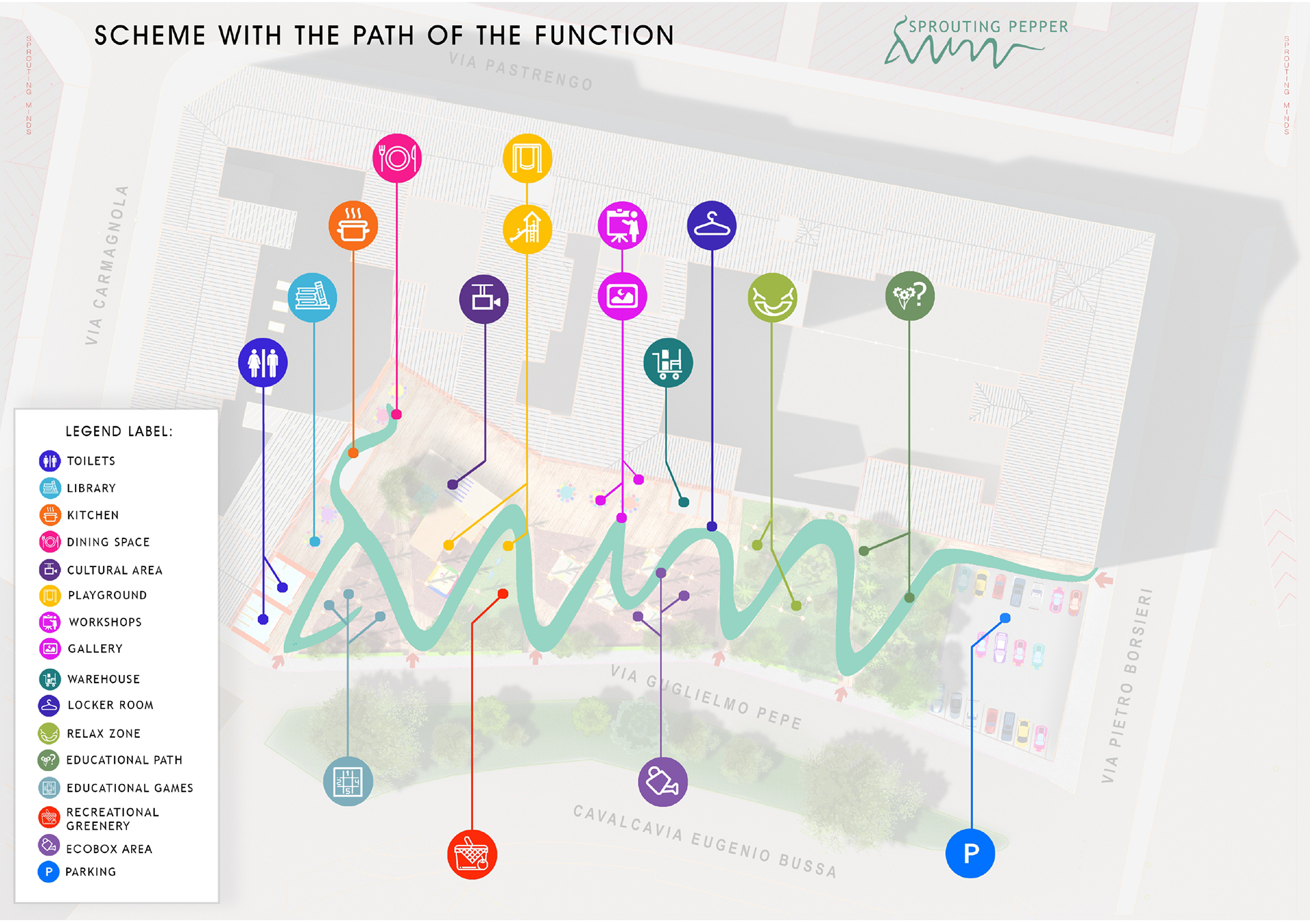 The presented project proposes a new, creative and orderly vision of the Isola Pepe
Verde. The area was conventionally divided into zones, which is full of dimensions.
The starting idea is a grid with evenly distributed wooden poles, which symbolize
trees. A logo was also designed at the ekobs area. In addition, the space has to
become more open, public, so it was obligatory to use lower fence. The corner of the
fence is a dedicated to the children - it gives them the opportunity to express their
artistic vision through the possibility to paint and draw on it.

1) PLAYGROUND AREA
The playground zone, as the name suggests, is intended for children in the near
future. On the designed wooden poles regularly placed on the network, various
games for children have been proposed. They are designed to educate children
through play. Thanks to the basic senses of hearing, touch and pattern, we act
directly to stimulate natural curiosity and activate the brain. Physical activity is also
possible, which helps maintain the condition and vigor of children. In addition to the
listed wooden stands, there is a sandpit, a tree house and a platform for various
things near the type of enterprise, as well as a viewing and recreational terrace.
Where there are swings, there is greenery that encourages picnics, games for
children with parents and a joyful family atmosphere. On the left there are toilets, a
library and a kitchen.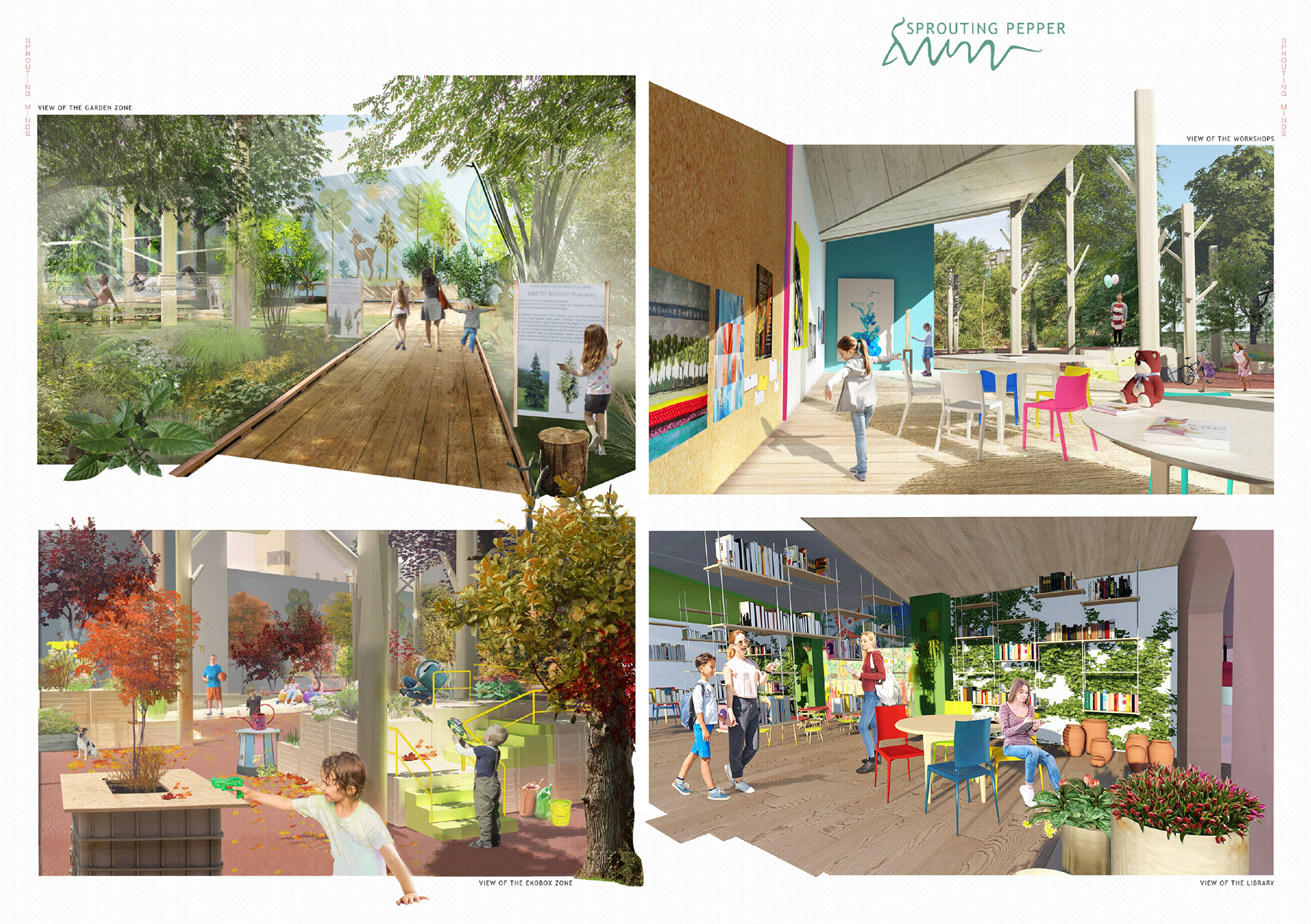 2) EKOBOKS AREA
This zone is reserved for developing knowledge about plants, trees and shrubs of
fruits and vegetables. Thanks to education in this area (specialist workshops)
children will understand how important it is to respect the greenery and yields that
nature gives us and sensitize them to the world around them. Help and
encouragement they are designed ecoboxes for this. In this zone there is a
warehouse and cloakroom.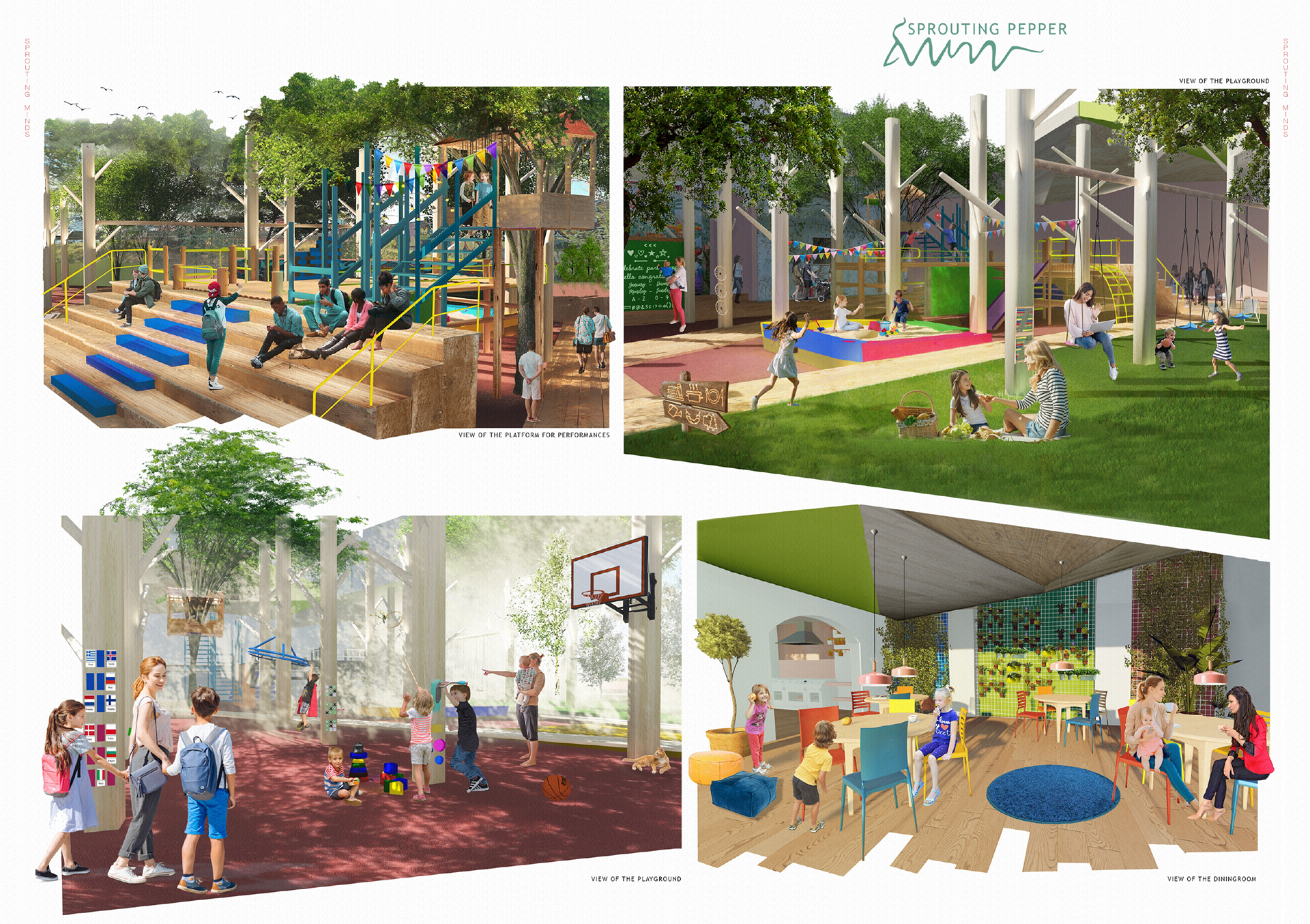 3) GARDEN AREA
In this area, a recreation area surrounded by lush greenery with netting hammocks
for recreation is proposed. The wall of buildings in the background is designed for a
mural, which is a logical whole in terms of aesthetics. The whole is divided by an
educational path with information panels about given plant species.
The whole is completed with a parking lot with a newly proposed entrance.